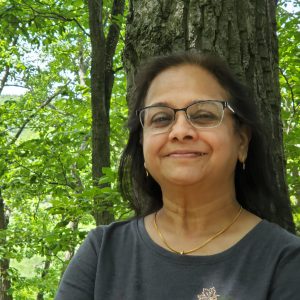 Vaidhya Dhara Shah
B.A.M.S.(Bachelor of Ayurveda Medicine and Surgery, India)
M.D.(Doctor of  Medicine, Ayurveda, India),
Member of Gujarat Board of Ayurved & Unani Systems of Medicine
DNM(Doctor of Natural Medicine, Canada),
RMT(Registered Massage Therapist, Canada)
Director and Founder of Ayurvedapath Wellness Inc.
Vaidhya Dhara Shah is a doctor of Ayurveda Medicine and has been practicing Ayurveda since 1990. She graduated from the world-famous Gujarat Ayurved University in Jamnagar, Gujarat, India. After her graduation, Vaidhya Dhara Shah earned her Master of Doctor Degree in Ayurveda with a specialization in Dravya Guna(Ayurveda Herbology and their therapeutic uses) from IPGT & RA, Jamnagar, India.
Vaidhya Dhara Shah has also worked as a lecturer and taught "Ayurvedic Materia medica" at Ayurveda and Naturopathy colleges in India.
She migrated to Canada and has been offering Ayurvedic services in Edmonton since 2009.
Throughout her career, she has been very successful in helping many patients from India, Canada, and other countries by offering Ayurveda Consultation, Herbs, lifestyle healing therapies & yoga.
Her wide experience with Ayurveda includes dealing with health conditions such as stress, joint pain, sciatic pain, breathing problems, sinus, constipation indigestion, calculi, dry skin, women's health, ayurvedic beauty care & ayurvedic hair care, and more.
During her journey, she also encountered tribal groups in the vast forests of India. Upon those encounters, she had the opportunity to learn from them, the proper identification of various plants and how to recognize their unique medicinal properties.
Soon enough, Dr.Shah started to implement the knowledge she received by mixing herbs and creating her very own customized herbal formulations. Proven to be effective in challenging conditions by countless client testimonials. Today, Dr.Shah has created her very own 100+ customized formulations by Hand.
Dhara is passionate about offering an Ayurvedic approach in the modern context for the optimal health and well-being of her clients. With her wide knowledge and expertise as an Ayurveda Doctor, she strives to guide her clients to their optimal health
She is a member of Natural health practitioners of Canada, All India Ayurvedic Congress, and Gujarat Ayurvedic Congress India.
She would be of great service to anyone looking for extra guidance or an alternative method of healing.
Currently, she is offering traditional and authentic Ayurveda services that include online and in-person consultations, therapies, and much more.
Founder Of Drug Research and formulation lab
She is founder Of Drug Research and formulation lab & run her ayurveda pharmacy successfully after her master's.
Her research work
As a Research Scholar, she has done a comparative study of two well-known ayurveda herbs and their effects on memory. After different ages & groups of volunteers, she established both improved memory one improved Varble memory, and the second one improved visual memory significantly. It is very important and research experience opens a wide secret of ayurveda psychology and applied to her clients to enhance mental health and well-being.
Founder of Charak Academy
Dr.Shah has now started a new chapter, where she is beginning to incorporate and start offering Ayurveda educational courses. She is currently dedicated to her mission in sharing this ancient secret with those who would like to learn more about Ayurveda. For more information check out our newsletter and subscribe for more detail.
Ayurveda practitioner
Due to her hard work, passion for Ayurveda, and learning and understanding of Ayurveda philosophy, with her expertise in ayurveda herbs and formulations and research work, she can able to help and support her clients with many conditions like Autism, Down Syndrome, MS, Asthma, Ulcerative Colitis, Pseudo Monaris infections other challenging chronic conditions. Here is why we recommend Ayurvedapath is Best For You.
100% Natural

Holistic Healing

Science of Life

Improve Chronic conditions

Maintain Mind-Body Balance
Highly Qualified

Years Of Experience

Ancient Vedic Methods

Authentic & Scientific Approach

Customize Supplements
A myriad of people seek help from Dr.Shah every year and gain awareness about the beautiful world of Ayurveda.
It is our intention to deliver a 5-Star experience to each and every single individual. We are here for you with more than 30+ years of experience check out our dear clients are saying about us.
*No paid testimonials*
The best ayurveda clinic with a brilliant young doctor, dedicated and passionate.

Dr Dhara Shah's diagnosis and treatment is as good as you'll get anywhere in India.

The prices are very reasonable. If you are thinking of taking some ayurveda treatment or have a medical problem, this is the place for you. You can also go there to get customized herbal teas aimed at balancing your doshas and thereby giving you healthy life.

Dr. Dhara is very knowledgeable about 'western' medicine as Ayurvedic doctors do a similar training to allopathic ones in the first few years, then they specialize in Ayurveda. I could go on and on. Back in US now and can't believe how strong, quick thinking and energetic I am. I'll definitely go back next year.
Explore The Ancient Healing Secrets Of Ayurveda
with
Dr.Dhara Shah
Ayurveda is known as a comprehensive alternative system of medicine. Being more than 5000 years old it originated from India. It is recognized as an ancient alternative or comprehensive Indian system of medicine. It is combined with two Sanskrit words Ayur and Veda which means science of life. It teaches you how to live, what to do that makes you healthy.
Stay Tuned With Us To Explore The Secrets Of Ayurveda